It was back in February when I received a mysterious deposit. I had just, in January, updated my insurance policies. I added a thing here, moved a no longer existing policy to the new version there and set up my flex information for myself and dependent care. It was EXTREMELY important that the dependent care was correct because frankly, we cannot afford daycare without it. I was to receive a certain amount monthly divided up into 10 months.
February rolled around and I received my usual dependent care (let's just call it the dc) deposit and a week later, a mysterious deposit from the same company for almost two hundred dollars.
(Popkey)
"Oh no," I thought, "they are breaking up my dc into small payments! No! I did not agree to that."


So I called up my flex care company ready to complain. A pleasant woman answered and took my information. I asked about my flex spending account and my dc accounts. She agreed that both paid out so much a month, and so much was taken out of my paycheck a month to payback my accounts. Normal stuff. Then I bring up the extra deposit and the woman on the phone looks through my account and sees no paperwork or requests or notes put in for me to receive extra money. In fact, there was no note of an extra deposit in the system!
"Oh honey." She says, "You must be receiving a reimbursement for a procedure or your wellness visit."
"That normally would make sense," I said to her, "except I haven't been to the doctors since my mandatory post pregnancy appointments ran out." (I know, I'm bad, I should go)
"Well you do get MRIs, I see some charges to your account. Maybe you overpaid. I'm sure whatever it is, you've just forgot and it's finally come back around." She says to me in a slightly patronizing fashion.
"I really don't think so ma'am," I reply slightly offended.
"I am sure that the paperwork simply hasn't processed yet. This is your money dear. No one would just put money into your account unless there is paperwork."
I make sure I will still get a deposit for my dependent care (yes of course since this money is obviously a reimbursement! Uhuh.)
I'm like… alright… I guess…
So like a COMPLETE IDIOT I spend the two hundredish dollars on bills (because I can't seem to shake the darn things).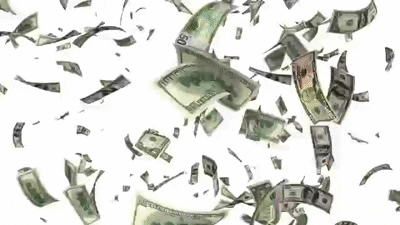 Two weeks later, I receive an alert for a deposit. What?
There it is again, another deposit for two hundredish dollars.
Son of a biscuit. I spent that two hundredish dollars. Now I know. It wasn't mine. It couldn't have been! One deposit I barely believed was mine was enough to make me paranoid but two? No. That's a confirmation.
So I call. I explain. I am patronized. I demand they put a note on my account. They say it cannot be a mistake! It must be my husband's flex, there is NO RECORD of an extra deposit.
Ry, explains to me he does not have our joint bank account linked to his flex in any way. I ask him to check because at this point, I am thinking maybe I am insane. I mean, two different employees have checked and assured me all is well.
Ry calls them up on his end and they agree, it's not possible for them to deposit money for him into our joint bank account.
So. I bump that money to savings and I call again.
And again.
And again.
It was a little like that on repeat.
5 deposits later (3ish months in all), I almost say, screw it.
But I know. I know when they discover this error they will want their money. They may take my paycheck (now I know they can't), they may drain my flex spending, they may take me to court. Whatever they decide to do, they will still want their money. So I move all that I still have to our savings account. I think I earned a few pennies while it sat there.
So at this point I've called maybe 8 times. On a lark, I say to myself, "Let's just call again." So I do.
Enter employee with common sense. Can I mention she sound like she's from a big city? I can just tell this woman has her ducks in a row. I tell the story again, I explain again. I talk about the notes and the assurances and how it's seems incredible that this money is supposed to be mine. And she listened. She thought it was crazy. She made me a call back ticket and kicked the problem to the finance department.
Not even an hour later I have to let a call go to voicemail (because I am teaching). The company has called be back with a different chirpy woman congratulating me on my integrity, my honesty, my ethics and how in two days they will be taking back the money they accidentally deposited and to not hesitate to call them back for details.
I mean, yeah I want details. How do you just deposit almost a grand into someone's account?
I'm thinking, maybe I have a social security number almost perfectly like someone else's, you know mine is xxx xx xxxk and theirs must be like xxx xx xxxl. Or maybe our account numbers with the company are like that, one number off.
So I call, ready to sympathize with the number mix up, only to discover another chirpy woman.
I do the basic pleasant "How do you do," and ask if she has any notes about the current situation. I explain I know that they cannot tell me too much but I figure a number mix up is something that can be admitted.
Do you know what they tell me?!
"Well your name was similar to someone else's. There was a mix up."
"Wait. So they mixed up our names."
"Yes."
"So my address, my account number, my checking account number, my actual social security number, all of these very unique identifiers were completely disregarded and they went by our names only when deciding to arrange deposits. Even though they had theses other identifiers, that I am told are crucial to identifying who I am with the company, the instead used or names. Even though when I call your company you will not allow me to speak with you without having to rattle off these other unique identifiers instead of just my name" (seriously I said this, without mercy, or remorse.)
"Yes, well you have to understand your names were very similar."
Are you serious? I mean… Okay people. My name is Katherine Elizabeth. You put any darn last name you want behind there and I have the same name as hundreds of thousands of people. Just using my entire name, spelled the way it is, there must be fifty thousand or more. My name is as basic, as generic, as completely uninspired as a white person's name from the south could possibly be.
I mean, I mean seriously. My name…. my name is similar! It is?!
Sorry. I was just. I mean. Honestly.
So realizing that I am dealing with a Winnie the Pooh Company:

(a company (bear) with very little brain)
I explain that I am indeed ethical and amazing and all that stuff they said. However they also have to realize they told me it was my money. Not just once. But 7 or so times. You see that call log on me? Every time except the last I was told I could keep the money. Now you want it back. Well I spent the first deposit. You can have all your money back, please take it away, but you have to wait until I get paid in two weeks. I would be short the next month (I've been short the past two months actually, I had to borrow from family to make it through) but unless they want their withdrawal to bounce in two days, they better give me two weeks. And it's not like they need my permission, they already explained they can reach in and snatch it at any time. So snatch it in two weeks.
She meekly said she would talk with the supervisors of the financial department. I thanked her and hung up.
At the end of the school day I had no messages. I wondered, did this mean they denied my request?
So I called. Again. And the woman who picked up this time said, she saw a lot of notes on my account, and while she wasn't sure about the two-days-until-the-money-will-be-recouped note, she did see that there was a note that said they were making a withdrawal from my account on the first of the month.
And while that was nice to know wouldn't you believe it, they took it out five or 6 days after the first if the month?
So ends the saga of the most idiotic bunch of nothing I was blessed to experience this year. I hope you derived as much hilarity from this situation as I felt in utter disbelief during the ordeal. Similar names indeed.
Somebody's behind shoulda been fired, just sayin'.